Terms & Conditions On-Line Contest : 𝐕𝐈𝐕𝐀 𝐇𝐎𝐌𝐄 𝟕.𝟕 𝐌𝐄𝐆𝐀 𝐅𝐔𝐑𝐍𝐈𝐓𝐔𝐑𝐄 𝐒𝐀𝐋E 2𝟎𝟐𝟐 𝐆𝐈𝐕𝐄𝐀𝐖𝐀𝐘 Contest Period : 25 June – 10 July 2022 Eligibility The contest is open to all Viva Shopping Mall shoppers except employees of Viva Venture PLT, employees of their advertising and promotions agencies, and their immediate families. Tenants and pushcart/kiosk tenants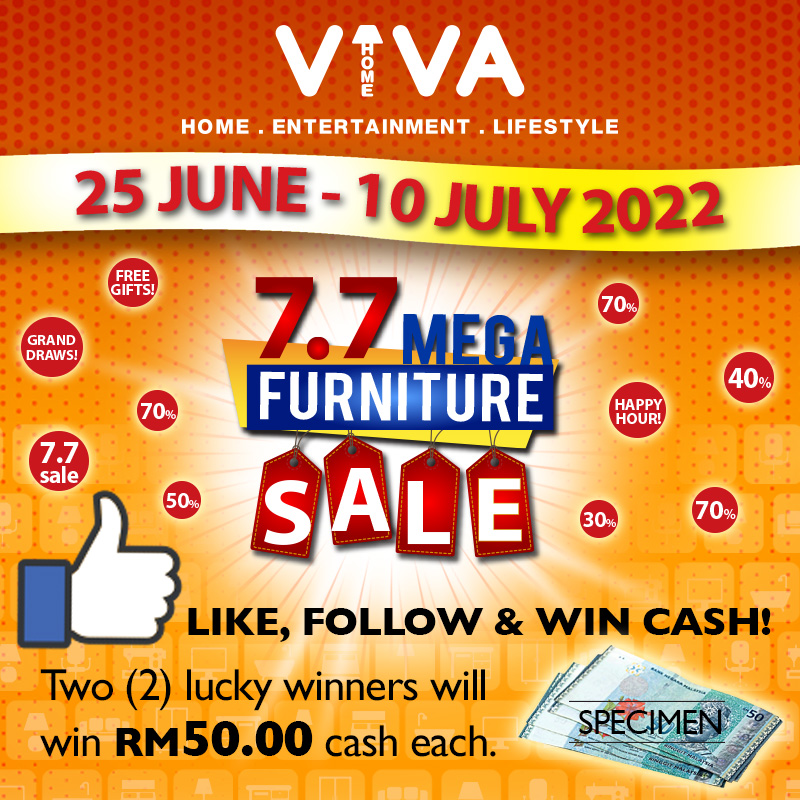 Terms & Conditions
On-Line Contest : 𝐕𝐈𝐕𝐀 𝐇𝐎𝐌𝐄 𝟕.𝟕 𝐌𝐄𝐆𝐀 𝐅𝐔𝐑𝐍𝐈𝐓𝐔𝐑𝐄 𝐒𝐀𝐋E   2𝟎𝟐𝟐  𝐆𝐈𝐕𝐄𝐀𝐖𝐀𝐘
Contest Period : 25 June – 10 July 2022
Eligibility
The contest is open to all Viva Shopping Mall shoppers except employees of Viva Venture PLT, employees of their advertising and promotions agencies, and their immediate families.

Tenants and pushcart/kiosk tenants of Viva Shopping Mall, their employees as well as their immediate families are also not eligible to participate in the contest.
Terms & Conditions
Contest period start from

25th June to 10th July 2022

.

Viva Venture PLT will not be responsible for any technical fault or failure which prevents participants from entering the Contest.

Participants need to set the post setting to

public

.

All entries must be received by 11:59 P.M. (Malaysia time) on 10 July 2022.

To participate in this Contest each participant must have a valid Facebook account.

Two (2) lucky winners will be selected to win

cash prize RM 50.00

from Viva Venture PLT.

Prize subject to change depends on availability.

Each Facebook account is qualify for one (1) entry ONLY.

Winner will be announced on Viva Mall Facebook page.

Each participant agrees to be bound by the rules, regulations and decision (s) of Viva Venture PLT.

Viva Venture PLT reserves the right to delete and disqualify any entry or content deemed unsuitable for its Facebook page.

Winner will be notified by organizer via

Facebook Posting Announcement

. Viva Venture PLT will not be held liable in the event winner of the Contest cannot be contacted for whatever reasons and in such an event, the Viva Venture PLT reserves the right to disqualify the winner and select an alternative winner.
Viva Venture PLT retains all rights to publish and use the names, personal details, photographs and/or video recordings of the participants including all materials submitted during the Contest for the purposes of advertising and/or trade publicity for promotions, without any prior notice to the participants who by submitting their entries to the Contest hereby consent to such use by Viva Venture PLT. All participants shall not be entitled to claim ownership or other forms of claims or compensation whatsoever on any of the materials submitted to enter the Contest. 

Viva Venture PLT reserves the right at its sole and absolute discretion to suspend, modify or terminate this Contest at any time without prior notice.

Winner need to collect the prize at Viva Management Office, Lower Ground Floor, Viva Shopping Mall, 85 Jalan Loke Yew, 55200 Kuala Lumpur

.

Viva Venture PLT decision on any and all matters in respect of the Contest is final and conclusive and no further disputes, challenges, objections, requests, claims or correspondence whatsoever will be entertained.

By participating in this contest participants are agreed, confirm to accepted the terms and conditions of this contest and hereby consent to receive continued advertising and promotional materials from VIVA Venture PLT and further consent to VIVA VENTURE PLT usage, collecting, recording and processing of partcipant personal data in accordance with the terms and conditions of this contest.

VIVA Venture PLT have a right to change any terms or conditions prior to time.